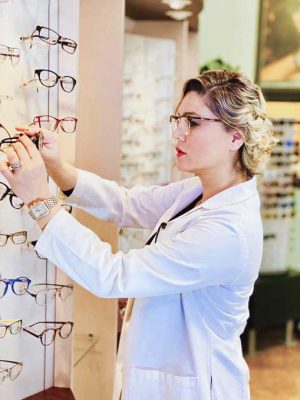 Dr. Haideh Karimi has been in private optometric practice at Eye Can See Optical since 2007. She earned a Bachelor of Science degree from University of Dallas with a major in Biology. Then attended the University of Houston where she received her Doctor of Optometry degree in 2007.
Dr. Karimi has always shown strength and commitment to providing high quality optometric care. Her areas of interest are comprehensive vision evaluation, complex contact lens fitting, pediatrics, and treatment and management of ocular disease.
As a Doctor of Optometry, part of Dr. Karimi's commitment to her patients is ongoing professional education. As technology and the world around us changes, she stays up-to-date, because she believes in providing the best care possible for her patients.
Known for her friendly personality and caring nature, Dr. Karimi strives to develop a long-term, trusting, and communicative relationship with each patient. She takes her time with patients and enjoys getting to know them and their families. In turn, patients find it easy to connect and talk with her making visits to the office pleasant and informative. Many of Dr. Karimi's new patients are the family and friends of existing patients who came as referrals.
Dr. Karimi resides in Plano with her husband. She enjoys spending time with her family, photography, working out.
Currently, she is accepting new patients and welcomes you, your family and your friends.